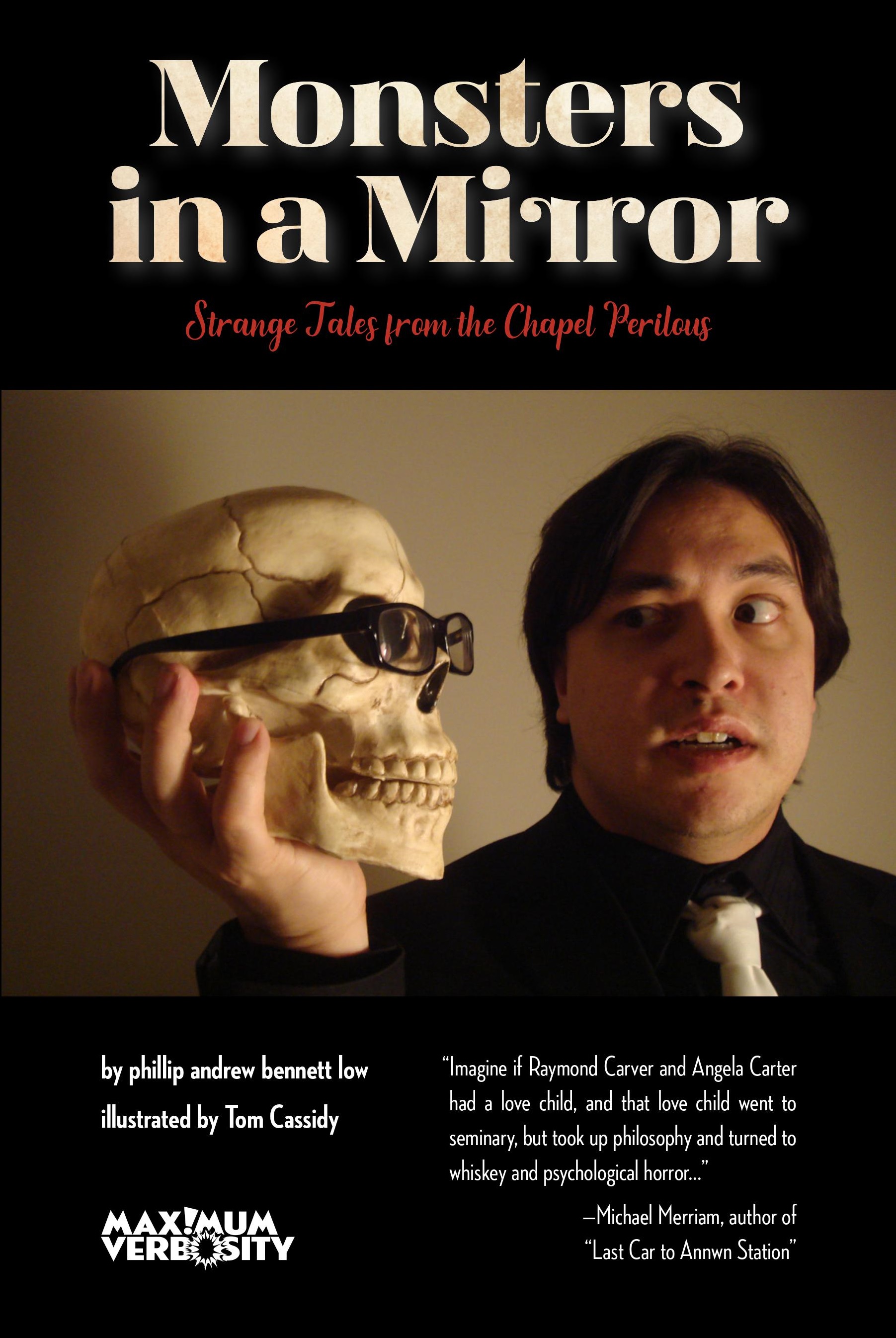 Monsters in a Mirror
Strange Tales from the Chapel Perilous
"I had to fool them into thinking I was still human. I was dubious that that was still possible. I had barely been able to see myself in the bathroom mirror, I'd grown so pale as to be almost translucent."
- Monsters in a Mirror
National Praise for Previous Horror by phillip low
"It positively hums—high energy on a tight leash. It's a bullet aimed at the dark corners of your brain...sharp as a razor. I marvel at how this thing was put together."
- Matthew A. Everett, Twin Cities Daily Planet
"With a control over the rhythm and pacing of his words that rivals Saul Williams, low paints a beautiful and sometimes not so beautiful picture..."
- Katelyn Coyne, Indianapolis Fun City Finder
"...low has a hell of an ear for language. Those are some downright beautiful sentences...the guy gives good aural."
- Glen Weldon, Washington City Paper
"...dark and passionate...thought-provoking theater..."
- Daniel Gerzina, Time Out Chicago
About the Book
There is an imperfection in the human mind - a crack, a flaw, a crevice - one that fascinates and repulses all those who find it. It is empty of all but impulse and appetite and the memory of hope. What if you looked over the edge? What if you fell? And after the fall, what would you see in the mirror?
Dragon shadows, bleeding statues, wolf dreams and time machines - your biological clock is ticking, and it's time to get metaphysical in this twisted cabaret of the macabre. This is the road map to your own personal inferno, fondly dedicated to everyone who is dying...especially you.
Fully illustrated by artist Tom Cassidy, and with a foreword by author Michael Merriam!
Warning
Contains tales of horror and dark fantasy, and consequently some disturbing and violent imagery, including descriptions of sexual assault.
Upcoming Events
No events currently scheduled. Correct this grievous state of affairs!
Availability
The book is available from a variety of places online: I get the largest cut of the sale if you order it from Lulu, though I would appreciate it if any reviews were left on Amazon. (Sincerely, I would, whether you loved it, hated it, had any kind of emotional or intellectual response -- there's nothing worse than dead silence.) If you're a retailer interested in carrying copies of the book on your shelves, they're available wholesale from Ingram.
Other
I am available for and delighted to do any combination of readings, signings, workshops, and/or question-and-answer sessions. Additionally, I have turned many of the stories from the collection into one-man shows, including Fear and Trembling, The Concept of Anxiety, Serpentine, On the Concept of Irony (with No Reference to Socrates), and The Gray and the Gold. If you're interested in any of the above, drop me a line!
I have also published a political humor collection and a comic fantasy novella!