"But I don't know how to write for pleasure. I mean, I just can't do the Emily Dickinson thing. The whole appeal of writing for me is to find some way of, of, y'know, communicating with other people."
Click on the quote to find out more about the source play.
Feel free to contact me if you're interested in any of the following.
One-man shows by phillip low
(All shows are $150, and approximately one hour in playing time. Shows outside the Twin Cities metro area may require a travel/lodging surcharge. I'm happy to do any post-show discussion and question/answer sessions.)
NOTE: In the tradition of tellers such as Spalding Gray, some stories are performed with occasional reference to notes. To quote one theatre critic:
"[Some storytellers] perform their stories with the words on sheets of paper in front of them, on music stands, to which they occasionally refer, as many spoken word performers do. This seems to bewilder some people. 'Didn't they bother to memorize their lines? Isn't this theater?' Well, to be simplistic about it, no and no. This isn't the kind of theater where the actors are pretending to be somebody else whose thoughts spring from their mind and out of their mouths as if the playwright didn't exist. There is no fourth wall. There is no alternate reality. The words are the point. The words need to be in front of them, not as a crutch, but as a reminder to the audience that this is about the crafting of language on a page...the music stands are the point. They're supposed to be there."
- Matthew Everett, Twin Cities Daily Planet

---
Personal Narrative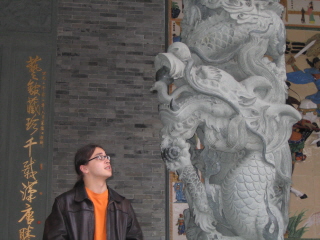 (photo by Tori Tomalia)
A cranky Chinese-American tells the story of a quest to find his ancestors that led him across four continents and four thousand years. This was the bestselling show in its venue in the 2007 Minnesota Fringe Festival and awarded a coveted Encore slot. Or book it alongside its sequel:
Three years later, in the midst of a new identity crisis, the champion of negative thought is going back to China.
---
Humor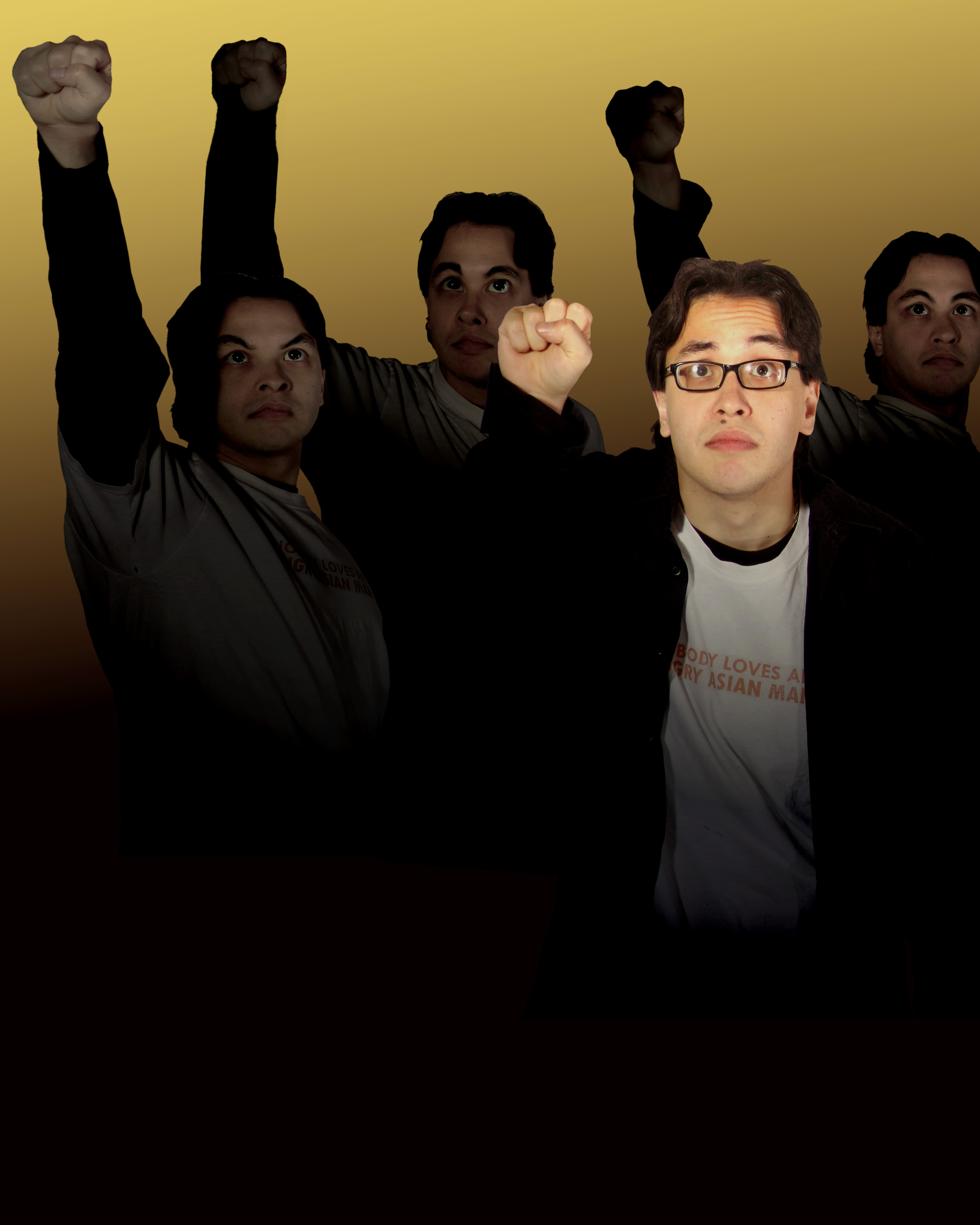 (photo by John Largaespada)
It's just the time for an irreverent collection of classic jokes, stories, and rants by libertarian activist phillip low! Pull up a chair, down some whiskey, laugh, get angry, and tip your servers. He'll be here for...as many nights as you hire him, apparently.
It's December 21st, 2012, and something's gone terribly wrong with the timeline. Now it's up to Saint Nicholas, a soft-boiled detective, and an unknown carpenter's son named Jesus of Nazareth to set things right in this giddily blasphemous collection of literary parodies. This was the bestselling show in its venue in the 2018 Kansas City Fringe Festival and awarded a coveted Encore slot.
---
Arthurian Romance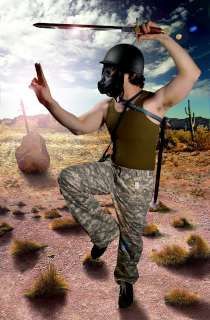 (photo by John Largaespada)
The fifth century meets the twenty-first as Lance-Corporal Pellinore is shipped off to Baghdad. It's King Arthur's story...as you've never heard it before. This show was nominated for Outstanding Spoken Word Performance in the 2009 Minnesota Fringe Festival by FringeFamous.
The murderous son of King Arthur recounts his history with the court to his dying father, while Arthur's greatest knight traverses a post-war landscape to find his queen. Both reflect on how their actions brought about the death of the dream in this brooding one-man tale of light and darkness. This show was nominated for Outstanding Solo Show in the 2011 Minnesota Fringe Festival by FringeFamous.
---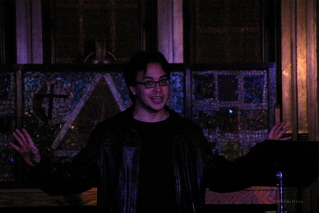 (photo by Erika Beatty)
For the first time in history, the Gospels suppressed or ignored by the early church have been combined to give a complete portrait of the life of Jesus.
---
Horror
Strange beasts. Bleeding statues. Songs of death. Explore the hidden worlds beneath Minneapolis in these twisted tales.
Death and the deathless. Dragon shadows. Wolf dreams and time machines. Your biological clock is ticking, and it's time to get metaphysical in this verbose cabaret of macabre geekery. Fondly dedicated to everyone who is dying. Especially you.
A gray-man, skin dirt-gray, sets out into the desert to find a golden maiden, stopping for long palavers with a pale man along his way. Tale of some colorful folk, say I, with tongues of gold, whatever their skins may be.
What happens when human folly runs face-first into apocalypse? Stolen placentas, political genies, sad puppies, Elder Gods, cryogenically frozen comedians...welcome to this grotesque anthology of comic horror, with no mention whatsoever of a certain ancient Greek philosopher.
A bickering brother and sister repeatedly awaken in strange scenarios to witness terrible things happening to each other. Why is this happening? Does it matter? Does anything? An expressionistic nightmare about anxiety, loss, madness, love, grief, and table salt.
---
Workshops
All workshops are $250 for two hours. Please note the availability of a $100 discount when the workshop is booked alongside one of the above-listed performances. Workshops outside the Twin Cities metro area may require a travel/lodging surcharge.
I have spent five years spearheading physical theatre programmes for teenagers and adults at both the Masque and Civic Theatres in Rochester, Minnesota, in addition to giving workshops and lectures at both high schools and colleges in the area. I have primarily offered classes focusing on movement training for the actor, drawing on my background in mime, clowning, and commedia dell'arte. I can also give workshops on such subjects as storytelling, medieval literature in performance, political humor, and the business of marketing and producing grassroots theatre.
---
Readings/Signings
I have published a book of political humor, titled Indecision Now! A Libertarian Rage, as well as the comic fantasy novella Get Thee Behind Me, Santa. I am available for and delighted to do any combination of readings, signings, workshops, and/or question-and-answer sessions -- if you're interested, drop me a line!