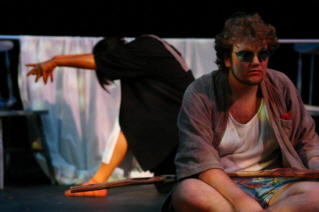 (photo by Scott Pakudaitis)
Camelot is Crumbling: Two Arthurian Dreams
"...this is why we need songs (for communicating)
we have so much need to express what we need
but our language, our language is disintegrating
and so we keep on...hesitating..."
from "Camelot Is Crumbling: Two Arthurian Dreams"
Praise for Camelot is Crumbling: Two Arthurian Dreams
"...edgy, intelligent, lit-dorky...back and ready to rule."
-Caitlin Gilmet, freelance writer
"...intense and riveting...exhilarating, well-acted and visually compelling."
-Scott Pakudaitis, photographer
"...a brilliant job of combining classical theatre presentation with spoken word slam poetry...you haven't lived until you've seen a bunch of blue hair rocking to Arthurian hip-hop."
-Rik Reppe, writer/performer
"I'm still kind of dumbfounded after seeing this show...I just had no idea they were this good. Camelot Is Crumbling is one of those Fringe shows that seemingly comes out of nowhere and knocks me on my ass. I loved this show...intensely compelling to watch...simply but inventively done...a compelling nightmare, well-executed...highly recommended."
-Matthew Everett, playwright
About the Show
Two failed heroes struggle to escape their fathers' legacies. The Grail quest enters the new millenium in these tales of incest, murder, and dirty politics.
Both plays are inspired by Sir Thomas Malory's "Le Morte D'Arthur," a morbid and fantastic Middle English epic depicting the downfall of Camelot. In "Camelot is Crumbling," Arthur's heir broods on the futility of political power; in "Broceliande," a knight is tormented by visions of Merlin's brutal murder.
Help us try to make sense out of a world dominated by power players and crumbling ideals - in other words, a world entirely unlike our own.
WARNING: This production contains profanity and implied violence.
Other