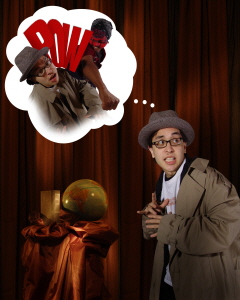 (image by John Largaespada)
Logorrhea: The Most of Maximum Verbosity
"I'm trained to use words you've never even heard of. You understand? Why, sometimes I use words I've never even heard of."
from "Logorrhea: The Most of Maximum Verbosity"
Praise for Logorrhea: The Most of Maximum Verbosity
"One of the most refreshing things about 'Logorrhea' is that it isn't a reverential revisiting of previous Maximum Verbosity outings. Rather than try to recreate the original experiences for those who may have missed their early work, 'Logorrhea' betters all the material in one of two ways. It either improves on the quality in a standard presentation or does a complete vivisection of the original text to create something entirely new. It takes a confident, and playful, company to allow the latter. Maximum Verbosity is clearly such a company."
-Matthew Everett, playwright
"...sometimes it felt like a bad drug trip, and other times it felt like a good drug trip - a good drug trip with miming and guitar interludes, which no good drug trip should go without."
-Ben Sandell, stand-up comic
About the Show
More words than you can shake a stick at, if that's your idea of a good time. Maximum Verbosity kicks off its fifth year by revisiting some favorite material, now radically re-interpreted with other Minneapolis artists! Featuring groovy guitarist Hunter Goetzman of the Brothers Quetico, Marceau-trained mime Dean Hatton, and manic modern dance trio Mad King Thomas.
The loquacious troupe indulges their irreverent take on world mythology, from Norway to the British Isles, from China to America, in styles ranging from vaudeville dialogue to slam poetry to political satire. Enthusiastically embracing the old and the new, the performance represents a rare opportunity to reflect on well-loved and audience-tested material, while embracing the spirit of raw experimentation upon which that body of work was built.
WARNING: contains mature language and immature humor. So kids, don't tell your parents. Parents, don't tell your kids.